Imagine the extra freedom you will enjoy on your holiday on Bali, knowing that your children are in the care of a professional and kind nanny.
Our nannies will take care of your children at the hotel while you are out, or accompany you wherever you choose to go on Bali, and keep your children save and entertained, enabling you to focus on what you came to Bali for: Enjoying a wonderful vacation !
Our Holiday Nanny and Babysitter Service is tailored to provide you with maximum flexibility and availability, at a most competitive rate.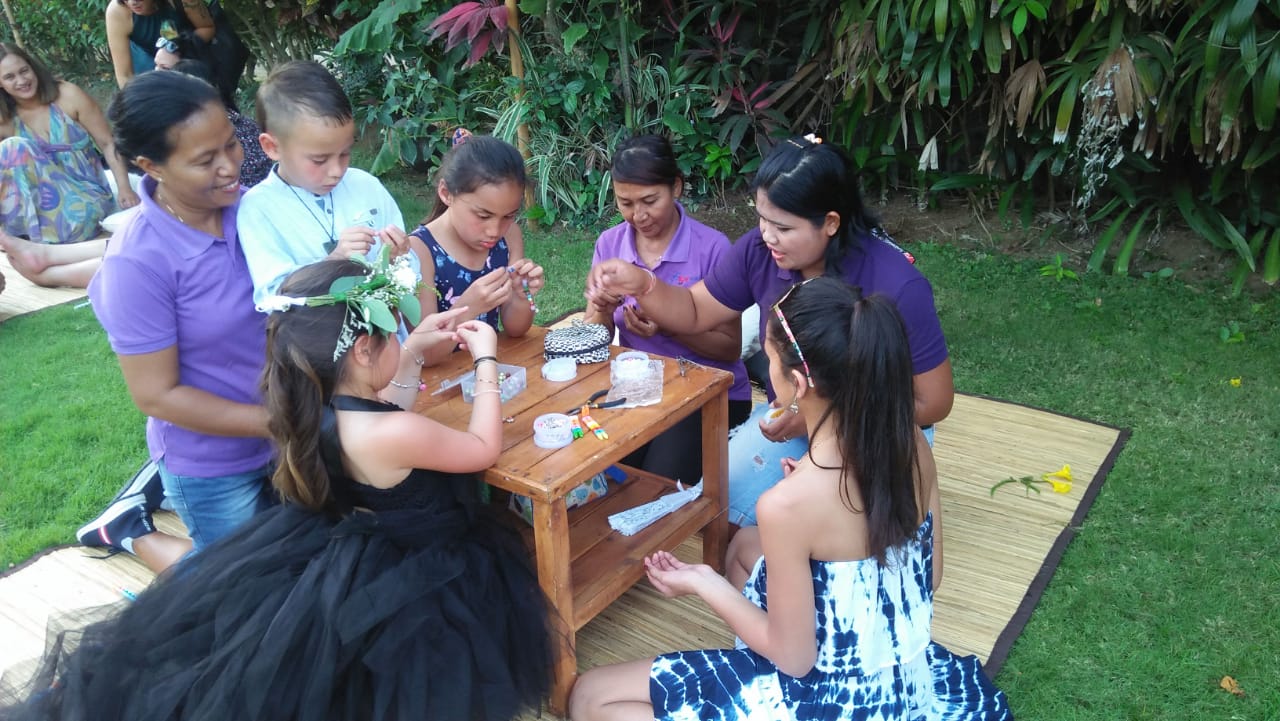 Our nannies are well experienced with foreign customers, speak sufficiently English, have an impeccable record of customer satisfaction and are in the possession of a first aid for children certificate from Bali International Medical Center.
You will have a nanny available whenever you need one; on-call-demand, full- or partial working days or 24/7 (live-in), and at any time of the day. We take short notice bookings, but need at least 6 office hours notice.
The working schedule of the nanny is totally flexible and you can discuss this directly with the nanny on a daily basis. Our nannies will work up to 12 hours per day, with a minimum break of 30 minutes every 4 hours.
If you choose 24/7 service you need to provide with food and drinks and a place to sleep for the nanny. Sharing the room with your children will be sufficient.
You will have the same nanny available to you for the duration of your booking, unless you decide not to use her services for 2 or more consecutive days, or in case of force majeure. If it doesn't work out with a particular nanny, for whatever reason, all you need to do contact us and we will get you a suitable replacement within 4 hours, without any extra charges.
Our nannies receive an excellent hourly salary that is well above Indonesian standards. This ensures their motivation to give you the best service available on Bali.
If you have questions about our services please visit our Frequently Asked Questions page. If you don't find the answer to your question just mail us or ask now.
Quotation
Click on the button below to obtain an online quotation for our Holiday Nanny Services and to view the nannies that are available for your holiday. You can book by paying a deposit. Your booking will be instantly confirmed.
Our Bali Nannies

Lucy

Erna

Anita

Ariani

Lilis

Oka

Sari
Our Mission
15 years ago there was no such thing as a nanny and babysitter service in Bali. We were delivering employment services at that time and noticed that we were getting increasingly more requests for providing with a nanny to take care of the children whilst on holiday in Bali from tourists.
It was clear that Bali needed a Professional Holiday nanny and babysitter service for tourists:
A service that would meet or exceed the standards of western childcare services, a real challenge in a country in which the concepts of true quality and professionalism are often not well understood.
A service that would take away the worries of parents to leave their beloved children in the care of a stranger.
A service that would make our customers confident that their children are in the best hands and be safe and entertained by kind, loving and experienced nannies.
We took on that challenge and created that service.
Today, after many years of experience and having served thousands of satisfied customers we can proudly say that we have succeeded in our mission to deliver the most professional Holiday Nanny and Babysitter service in Bali.
Testimonials
Dani was very prompt and always helpful to my family. She was very patient with my 2 year old son who is very active. Will recommend her to my frineds.
- Rina Turtle from Australia -
- - -
It was so nice to have someone who was of a lovely nature and also a nurse. Thanks Inda. We look forward to using her again.
- Kylie Gollan from Australia -
- - -
We have been extremely impressed with Karsini Services professionalism. Our nanny Ketut was wonderful. She was friendly, kind and very professional. We hope she can look after our children again. Thank you.
- Kristy Stanwix from Australia -
- - -
Nyoman was fantastic. She listened attentively to us (parents) and took gentle + playful care of our 6 year old daughter.
- Jane-Ine Clifton from Australia -
- - -
Putu has been an absolute pleasure to have looking after our 6 month old daughter Willow. She made us feel totally at ease, and she was everything and more than we requested. She was always punctual, kind and polite, very diligent, spoke fantastic English which was brilliant as we could communicate very easily and we understood each others needs and Putu was always accommodating. I would highly recommend Putu and would love to have her look after Willow next time we come to Bali. Thank you so very much Putu & Karsini.
- Leone & Brett from AU -
- - -
We had the pleasure of meeting Deby through Karsini (Services). She was the nanny to our two young children Bill 2 years and Lucy 5 months. Debie was punctual, communicated with us very well and, most importantly, was very kind and gentle with our children. We could not recommend Deby or Karsini Services any higher. It made our holiday so easy and relaxing. We hope to be back soon and all our family have made a new friend in Deby.
- Simon and Nicole Glyde from Australia -
- - -
Thank you for giving us Yola as our nanny. My husband and I have been able to enjoy our holiday in Bali and have time together. The kids have loved her company and very comfortable with Yola. Thank you so much.
- Tania from AU -
- - -
We have two daughters aged 6yr and 19mth. The service we have received from the nanny, Deni, has been faultless. The girls have really enjoyed being with her and Deni has been everything we could wish for in a nanny. We would recommend Karsini and particularly Deni for any family wishing to use this service.
- Darren and Janet Miller from Australia -
- - -
Ketut has been fantastic. We love her and will definitely use her again. Very professional company too. Thank You!
- Rachael Peedom from Singapore -
- - -
We were so delighted! Anna was the loveliest person. My children loved her. She is very professional & cared for the childrens every need so well. We would love to have Anna's experience next time we come to Bali. We had Anna for 7 times & wished we had her for the whole time!
- Susie Fowler from Australia -
- - -
Where do I start. Iluh is amazing! She is a very beautiful person who my son loved very much. Having someone so lovely and trustworthy made our holiday so fantastic. We were able to go out and leave our son knowing that he was perfectly safe and getting lots of attention. I will definitely recommend your company but most definitely recommend Iluh. If only I could take her with me.
- Claire Harrison from Australia -
- - -
A big thank you to Putu for looking after 6 yr. old girl & 3 yr. old boy. Putu became good friends with both kids very quickly & easily. It is now our 3 yr. old best friend! Putu was friendly, accommodating and pro-active. I would not hesitate to recommend her services and will be booking her on our next visit if she's not already snapped up.
- Kath Walker from Australia -
- - -
Thank you for the service you provided! 
Karsini was easy to book with, assisted with changes to our booking and we had the most wonderful babysitter, Erna. She looked after our precious six month old girl and she was kind, comfortable and calm and it was clear our baby felt happy and safe with Erna. We will use Karsini and Erna every time we come to Bali! 

- Madeleine Russell from Australia -
- - -
We hired Melly through your agency from Jan 23-28th. We just wanted to express how appreciative we were for what a wonderful nanny Melly is and how hard she worked. Melly was absolutely perfect. Thank you so much for hiring her.
- Gregg, Mikaela and Lucas from United States -
- - -
Anna is a fantastic nanny - the kids really enjoyed their time with her. We would highly recommend her services. Thank you.
- Leili Marshall from Australia -
- - -
Very Happy! Quick email response with quote. We had Indah Purwanti look after our 2 year old son. Very kind and caring to him & us. Never left him our of her sight. Our holiday was the best ever and we thank Karsini Services and Indah for making that possible. Would recommend to anyone with children!! Thank you so very much.
- Christy and Clint Taylor from Australia -
- - -
I would highly recommend nanny Vira to all my friends!! My daughter loved her and she put my mind at ease so I could relax and have a great holiday!!! Thank you!
- Tenielle Maxwell from Australia -
- - -
We were more than happy with Vera. Our kids embraced her from day one. She is a very kind person and very reliable too. We wish her all the best and hope to meet her soon again.
- Alessia Vicentelli from Germany -
- - -
I could not recommend Anna high enough. Anna was punctual. polite and very very friendly. The kids absolutely loved her and we cannot wait to come back and use Anna and Karsini Services. Thank you so much Anna, we want to take you home.
- Rachel Stripp from Australia -
- - -
Thank you for a wonderful service. Yeni was fantastic with our children and we all had a great time. Definitely will use again.
- Kathleen Ring from Australia -
- - -
Lilis was an amazing nanny and took fantastic care of our 3 kids (incl. a 9 month old baby) during our stay in Bali. She is really energetic, warm-hearted, always smiling and actively played with our kids all day long. We loved that she didn't hesitate to go in the pool with them and came along on trips to the beach with us. The kids (and us parents) felt immediately at ease with her. We highly recommend Lilis!
- Katharina Buhtz from Germany -
- - -
We had two nannies for 3 kids, Nancy and Putu worked really well together and made us feel completely at ease leaving the kids in their care. One of the boys has a nut allergy and both were confident with anaphylaxis plan. Putu had previously looked after my 11yr old in January this year and he was very excited and comfortable to see her again. The boys loved their down time relaxing at the Villa and not having to traipse around shopping, after 10 days of exploring Bali, Nancy and Putu provided an amazing service to the kids and the adults! Thankyou
- Karenin Wise from Australia -
- - -
My wife and I were very pleased + happy when Putu came to look after our little 18 month old boy. She is fun + attentive to his needs, follows our instructions and a pleasure to have.
- Con from Melbourne -
- - -
Thank you so much Karsini Services for sending Putu to us. She has been amazing with our children, especially our daughter. She is a very kind, gentle and caring person and we are all going to miss her greatly. From the minute we met her we knew that our daughter was in great hands. Our holiday would not have been what it was without her, she went above and beyond! My only issue is with recommending her is that she may not be available for us when we come back!
- Debbie Couzens from Australia -
- - -
wati has been wonderful! She cared for my 1 year old with love, patience and kindness. My daughter loved Wati. We can't wait to come back to Bali and see Wati again.
- Damian, Nacole & Katie from AU -
- - -
Fantastic nannies! Very much at ease. Highly recommended!!
- Scaife family from Australia -
- - -
Shantia and Nancy worked well together and they are able to handle my 8months old twin. Both of my children love them and were laughing and grinning when they were taken care by them!
- Celine Cheah from Singapore -
- - -
We had two girls from Karsini (Rini and Wati). They were absolutely fantastic. They looked after our 5 children. They were very caring and beautiful girls. We would recommend them to anybody. We loved them.
- Kathy Purcell from Australia -
- - -
Sugi has been excellent. She has been punctual, reliable and very caring. I can highly recommend Sugi and Karsini Services (we have used them three times in the last three years and been very happy).
- Anthoulla Mohamudally from Australia -
- - -
We were very fortunate to find Jessi. Our 6 months old son adored her. She was very caring and kept him entertained. She treated our son as her own.
- Sarai Foster from United States -
- - -
Tini has been a wonderful nanny. She cared for our baby boy in a very professional & joyful manner. She has also been very punctual & her English is really good. I would whole heartedly recommend Tini.
- Ibrahim from Oman -
- - -
Anita did such a fantastic job with our boy. He is a big boy and not easy to get to sleep and every single day he had his naps and was in bed on time. 
He cried when she left because he never wanted her to go, she did so much with him and gave us the holiday break that we needed.
- Aimee Carter from Australia -
- - -
We used Karsini for 1 week stay at the Padma Hotel for our 11 month old duaghter. We were very happy with the service provided, and extremely happy with Anita, our nanny. She was very punctual and flexible, and our daughter embraced her caring and happy nature immediately. The flexibility provided by having access yo such a friendly and genuine nanny made our holiday extremely special.
- Marissa from Australia -
- - -
With a few hours notice, Karsini allocated Ria. Immediately our 4.5 and 11month old took to her. Initially we went out with her to make sure our kids were happy and the extra pair of hands was invaluable. Later we went out knowing that our kids were on safe hands.
- Karl Ferguson from Australia -
- - -
Dani was wonderful with our children! She was very calm and patient. We felt extremely confident leaving her in charge. Dani was particularly professional and very easy to communicate with. My 6 and 8 year olds were comfortable to be left alone with her from day 1. I would highly recommend her.
- Louise Fairweather from Australia -
- - -
We have had the pleasure of having Sugi look after our daughter on our stay in Bali. and were delighted with her!! She is always prompt and professional and sincerely cared for our daughter, who was always well fed & rested & always laughing in Sugi's care. She comes with our highest recommendation. We just wish we could take her home with us.
- Miguel Bozina from Australia -
- - -
We recently hired Sari as our nanny during our trip to Bali, where we stayed at Sofitel Nusa Dua. 
I wanted to email to let you know how pleased and impressed we were with Sari and her level of care she gave to our son each day. She is such a warm and kind person, and we felt completely at ease with her taking care of our son. 
 
We will definitely contact you again when we are next in Bali! Thanks to you and Sari for making our holiday so wonderful.
- Hayley Capuano from Australia -
- - -
Best babysitter ever. so accommodating, very good in all areas.
- Linda Bourn from Australia -
- - -
Thank you to Anita and Karsini for making our holiday wonderful. Anita was fantastic with our little boy - Oliver. She was kind, patient and loving. Oliver thought she was wonderful. Nothing was a problem and we really appreciated Anita's flexibility. We have no hesitation in recommending Anita to anyone. We look forward to having Anita with us again on our next family trip to Bali.
- Blair and Jessica Lindsay from Australia -
- - -
We has Jessy for 3 days when in Bali. Our baby was very happy with her and she did an excellent Job! We would be happy to have her again next time and highly recommend her.
- Holly Dunne from Australia -
- - -
Putu was fantastic with our 14m/o daughter Lily! Very caring and loving. She followed all my requests perfectly and I felt very comfortable leaving Lily with her. We want to bring Putu back to Australia with us!
- Nickie Clee from Australia -
- - -
Hello we had the pleasure of having the beautiful Komang Sri look after my daughter Audrey-Mae in Sanur for our holiday this week. I just wanted to let you know that she was amazing and wonderful with my daughter. So much so that my daughter nicknamed her Mummy- Ko-Ko. We have captured great moments in photos and I would love to send them to you and her. She built such a beautiful rapport with Audrey-Mae and I was comforted in knowing that she was looking after her. I was able to have such a relaxing time because of her help! Please send her our biggest thanks and love.
- Christine Oudin from Australia -
- - -
Very good service. Nanny was fantastic. Thanks.
- Skye Murray from Australia -
- - -
Wayan is an excellent babysitter. She has looked after our 1 and 3 year old daughters for two weeks while we were in Bali. Wayan is very patient and loving to our daughters. She does not hesitate taking them to the Kids Club and pool, and looks after our girls like they were her own children. Wayan is very responsible and worked long hours for us without hesitation. We recommend Wayan and Karsini Services to everyone in the world.
- Richard and Colleen Moore from Australia -
- - -
Sugi was fantastic!! Very professional and happy with our 10 month old daughter Lily. I felt very confident leaving Lily with Sugi. She did as I asked when cleaning and sterilizing the bottles and bathing and feeding Liliy. I will recommend Sugi and Karsini to all our friends traveling to Bali with their babies and other children.
- Nicolette Clee from Australia -
- - -
Great service, and very very good help. Will be happy to have Nova again on our next visit.
- Justine Dzudzar from Australia -
- - -
The service provided was great. Everything was very easy, from booking on the internet to keeping in contact whilst in Bali. Our nanny Wati was wonderful. We were a bit hesitant at first, but it was our first time using a nanny (with our only child). Wati was very good. We felt extremely comfortable leaving our 20 month baby with Wati over a 5hr period. We would recommend her to anyone.
- Lindy Lam from Australia -
- - -
Nova has been an excellent nanny to our 3 children and has made our stay here in Bali. She was prompt + professional, has good communication skills, is gentle, kind, caring with a lovely disposition. Her rapport with our children was excellent. Highly recommended Nova + Anna, + will request their services on our next visit to Bali.
- Mrs. Scaddan from Australia -
- - -
Wati has been an excellent nanny for the week we were in Bali and we would have no hesitation to use her again. Both our kids have taken to her. They can be difficult when tired and Wati has shown patience & compassion throughout. Many thanks.
- Matthew Redmond from Australia -
- - -
We?d just like to thank Putu Susi for such excellent care of our kids during our recent stay. She as always on time and followed instructions to a tee. Kids loved her and so did we. I?d definitely recommend her to anyone seeking a sitter when in Bali. 
Thanks Putu.
- Kelly-ann Sherriffs from Australia -
- - -
We found Suzi very trustworthy and reliable with our children Hugh and Ben. Zusi maintain all the kids routines and followed all request re; Sunscreen and health and safety. Also providing additional support with local knowledge and even assisting with laundry and shopping. We will be using Suzi next year and would be happy to recommend and provide references for other Australian families. We are very greatful for a relaxing holiday and new friend in Suzi.
- Brent Haydon from Australia -
- - -
Where do I start !! Dani is amazing, from the moment she arrived my 7 Mth and 4.5 year old girls felt really comfortable with her and so did my husband and myself!! She is extremely professional, punctual and has such a friendly nature!! Some days our eldest daughter didn\'t even want to come with us she would insist on staying with Dani at the resort!! Dani made our holiday so much more relaxing knowing our children where in great hands having so much fun, whilst giving us the opportunity to we enjoy some time to ourselves and with friends shopping relaxing and dining! I would definitely have no hesitation in recommending Dani and Karsini to any of our friends and family!! Thank you again to Dani and Karsini !!!
- Lisa and Damien Bawden from Australia -
- - -
Ami was a wonderful help to me and my family! We wish we would have to leave her behind. She was fantastic with my children and whenever I or the kids needed her she was right there. Thank you for providing such a great nanny for all of us.
- Natalie Pecovnik from US -
- - -
Putu was amazing, she entertained my 3 year old the whole time. She was asking her to come home with us! And excellent with the little baby rocking her to sleep. We had a relaxing holiday thanks to Putu!!!
- Craig Berndsen from Australia -
- - -
Anita has been an absolutely wonderful nanny. She has taken such wonderful care of our babies + I would recommend her to anyone visiting Bali with children. Many thanks Anita.
- Sascha Schubiger from Australia -
- - -
<u>All<&sol;u> the nannies were great&comma; very friendly&comma; and I'm sorry my kids weren't in very good moods&period; You made our holiday much more enjoyable and relaxing&period; Thank you&period;
- René Edwards from Australia -
- - -
Desak was wonderful caring for my son. She made him smile, laugh and he loved playing with her. Highly recommended.
- Daisy Hughes from Australia -
- - -
This was our first holiday with our 5 month old baby. I was nervous about being away from home with such a young child. I shouldn't have been. Wiwin was the best nanny I could have hoped for. She was gentle, caring, kind, always punctual and flexible. I wish she could come back to Australia with us as I have never felt so relaxed. I will trust her on our future holidays and with all of our future babies. We will miss her!
- Amanda Tebb from Australia -
- - -
Wulan was outstanding. She was good with our two kids 4 year & 6 month old. She knew well how to play with them. Her English is excellent. We all love her and wish to take her back to Australia one day. Thank you Wulan for your help. We will use you again next time.
- Alex Komarov from Australia -
- - -
We are so happy we chose Karsini Services. Our whole family instantly fell in love with Wiwin, especially our boys Taj (2yrs) and Hunter (9yrs). Wiwin was a competent, happy & very professional nanny and having her enabled my husband & I to enjoy time together, without having to chase a two year old!! We will miss Wiwin, but will definitely request her next year, when we will come back to Bali, and the services of Karsini. Thank you from the Bennet Family, Perth WA.
- S.j. Bennett from Australia -
- - -
I just wanted to thank you for the very professional service you provided to me during my recent trip to Bali. The nanny (Iis) you provided was wonderful - very experienced, trustworthy and caring - it made my holiday and my son's experience of Bali very enjoyable.
- Clare Barrett-Lenard from Australia -
- - -
What a fantastic luxury to have Dani help us with our children. She showed kindness every step of the way. We highly recommend her and Karsini Services.
- Nell Roche from Australia -
- - -
Sintia has been wonderful and a tremendous help to us. Enabling us to enjoy our holiday even more than we expected. She was fantastic with William & Isabel and I would recommend her for any family with young children.
- Rebecca Hewitt from Australia -
- - -
Thank you for sending me Endah. She was wonderful with my daughter and even encouraged her to take her first steps. I would hire Endah again in a heartbeat.
- Kath Walker from Australia -
- - -
Sugi made a big difference to our holiday.She helped us relax by being such a caring and professional nanny. We were so happy with her services that we have re-hired her for our second week. I think that speaks a great deal about how much we value her help.
- Douglas Reith from Australia -
- - -
Watti is wonderful. The kids love her. Will be using Watti again. Thank you so much for friendly nature.
- Reneé from Australia -
- - -
We were very happy with our nanny Rini, who proved to be very helpful with our two beautiful little girls. Even our 2 year old became a bit more comfortable with her, as she prefers to be with her Mummy and Daddy. Our 4 year old enjoyed her time with Rini and was always happy to be left in her care. Rini was always prompt, on time and willing to help with everything. Thank you so much.
- Chantelle Formby from Australia -
- - -
Putu Susi was a very good nanny. Our little boy loved her and enjoyed playing with her. She made our holiday much more relaxing because we knew our child was happy and safe. Thanks very much.
- Mia Campbell from Australia -
- - -
Vera was fabulous with our daughter. Highly recommend her.
- Winette Baldwin from Australia -
- - -
Karsini Services was fantastic, very reliable & professional. I have 2 boys aged 5 and 2 and our nanny Wwiwn was excellent with both of them. My youngest started to ask for her every day and would get upset if she started in the afternoon. I wish we could bring her home!! We will miss her so much.
- Aimee Pace from AU -
- - -
Ami has been wonderful, we feel like she is part of the family and we have loved having her as part of our holiday in Bali.
- Pip, Mike, Charlie and Maddie from Australia -
- - -
I found dealing with you through your website and email very easy. I really liked being able to calculate hoe much it would cost for a few different options.
- Wendy Jasper from New Zealand -
- - -
Thank you so much for arranging for Putu to look after our twins. She has been absolutely wonderful. They love her!
- Matti Clements from Australia -
- - -
We had Jessie take care of our 15 month old twin boys for 9 days and on occasion our 4 year old boy as well. Because of her quick reaction she stooped one of the twins from choking. I would recommend her for any position nannying (or other) and will be requesting her on any trips in the future.
- Sam Burgess from Australia -
- - -
Wiwin was absolutely fantastic with our 6 month old, Jake. We were coming to Bali for the first time with a baby and felt completely confident about leaving Jake with her. She was always very prompt, polite and friendly. We will definitely use your service (and Wiwin) again.
- Caroline Mathie from Australia -
- - -
Yeni was absolutely wonderful with our two boys, our eldest two and youngest 4 months. Yeni looked after our boys for two weeks which was wonderful as it gave my husband and I a chance to have a break, go out for dinner and just relax. The boys Loved her and we felt extremely comfortable leaving the boys in her care. Fantastic service and can't thank Yeni enough. We will be back and will have Yeni look after our boys again. Thank you so much Yeni. 

- Stacey and Sam Kentwell from Australia -
- - -
Thank you Karsini. Sugi was excellent andnwould recommend her anytime.
- kyle smith from Australia -
- - -
Sugi has been absolutely fantastic with our daughter. She took great care every day, paid attention to every detail, had wonderful confidence and made us feel completely trusting in her ability to care for all of our child's needs. From the first day we knew Sugi was going to be perfect for Eleanor. She was tireless in playing with Eleanor as well and made her feel she had a playmate. Eleanor will miss her - and so will we! Confidence, experience and care was priceless to us. Sugi was so good we would bring her back to Hong Kong if we could!!
- Johanna Kao from Hong Kong -
- - -
We have really enjoyed having Nova as our nanny. She has been like part of the family. Always helping out in any way she can. The boys love her. Nova even took time to teach Blake how to count to 5 in Indonesian. Very competent, friendly, approachable and fun. Nova also speaks great English. Highly recommended.
- Nathalia Adams from Australia -
- - -
From the moment I met Ayu I felt very comfortable with her. She cared for oour children like it were her own + our children loved her. We are sad to say goodbye, but will see Ayu next time.
- Libby Ferrari from Australia -
- - -
My husband and I wanted to go on a holiday with our children but also have some time to ourselves. With the help of Kusy (our very gentle, patient and trustworthy nanny) we were able to have the holiday we had hoped for. Thank you.
- Larissa Marchant from Australia -
- - -
Thank you so much for sending Komang Sril. She was fantastic with our son. She was always on time, if not early, and very professional. Our son loved and trusted her, and she gave us peace of mind that our son was safe and happy in her care. We got some time together as a couple as well as time with our son. A great family holiday! I would have no reservations in recommending Komang Sri to anyone looking for a carer for their child! See you next year hopefully.
- SIAN MCGREAL from Australia -
- - -
Our nanny Kadek has been wonderful. I was very happy with the service provided by your company. I would recommend to a friend.
- Jenny Erceg from Australia -
- - -
How fortunate we were to be assigned Iluh to look after our children during our holiday. We were able to have some much needed time out, secure in the fact that our children were safe and happy with their carer. Iluh is a genuinely loving and caring person who we would have no hesitation in recommending to other parents in need of a break now and then! Thank you Iluh and thank you Karsini Services - we hope to see you again next year!
- Ashleigh Bowerman from Australia -
- - -
Suzi is amazing! My little boy (18mts) loves her and my eldest boy finds her great as well. I feel I can totally trust Sugi when we have gone out for dinner etc... Sugi does more than expected and always has a smile on her face. Thank you so much Sugi. We can't wait to see you again.
- Melissa Lovett from Australia -
- - -
Anna has been such an amazing help with my boys. She is extremely kind, gentle & dedicated. Both of my children took Anna straight away and I had no hesitation at all with leaving them with her. I will recommend Anna & Karsini Services to all my friends and family.
- Rachael Burke from Australia -
- - -
I would like to thank Karsini Services for a fantastic nanny service provided. Our lovely nanny Miss. Debie was a blessing. I could not have done without her on this holiday looking after my 14 month old son. Not only will I recommend her & Karsini Services to my friends, I will be looking forward to my next Bali holiday, with the assurance of a quality service & peace of mind.
- Debbie Barnett from Australia -
- - -
We hired 3 nannies to look after the kids that attended our wedding. They were brilliant, nothing was too much trouble. All the kids were tucked & asleep when they got tired and had a great time playing when they were awake. Thank you.
- kate & Glenn from Australia -
- - -
Thank you very much for your services. (Made) Ardani was fantastic. Such a kind, caring, gentle, loving lady. My 4 mth old adored her with lots of smiles, and my 3 year old had a ball, especially playing together in the Kids Club. Highly recommended Ardani and Karsini Services (...)
- Lisa Dewsbury from Australia -
- - -
It was an absolute pleasure to have Nova looking after our precious 21 month old daughter. From the moment I met her I felt relaxed about putting full faith in her. Nova and my daughter bonded immediately and it was wonderful to know that she was in such good hands. Nova was always on time + totally accommodated our schedule without exception. Thank you from the bottom of our hearts Nova for doing such a wonderful job and making our holiday so enjoyable. If we can get your service every time we come back we will book you every time + recommend you to all our friends.
- Kim McCarthy from Australia -
- - -
Putu was always punctual and took excellent care of our son. Our son was very happy with Putu and he loved going in the pool with her. We would not hesitate recommending Putu to others or hiring her again.
- Kate from Australia -
- - -
Wow! Putu has been amazing! My 5 yr old + 7 yr old adore her. I was impressed with how engaged she got with the kids & willingness to play games & teach them new things... Including teaching my kids how to swim! I strongly recommend her - & the whole experience of booking with Karsini has been great!
- Leah Mullis from Canada -
- - -
Ami has been a wonderful addition to our family holiday. Our young boys (2 & 5) adored her, enjoyed her cooking & that allowed us to enjoy a little more of Bali than we thought. We recommend Ami to any family visiting Bali.
- Dean Hyland from Australia -
- - -
Thank you so much for sending us Binti. We were quite apprehensive about leaving our 20 month old daughter Ava with a nanny, but we are so glad we did it, as it also gave my partner and I the opportunity to also enjoy our holiday. Binti was so amazing, she was very caring and patient, she was always one step behind Ava at all times, so we were never concerned about her safety. Binti looked after Ava as though she was her own child. We were very fortunate to have her and would not hesitate to recommend her to any family looking for a professional, caring nanny. Thank you again.
- Karen Belcher from Australia -
- - -
Wayan has been very patient & caring with our 1&1/2 year old son. He has taken to her immensely. Thank you.
- Ebony Raby from Australia -
- - -
Thank you for your help in sending us Ami. She has been so lovely and our daughter Sophia has enjoyed her time with her, and will miss her terribly. Ami always acted very responsibly, was exceptionally polite and completely trustworthy. I would not hesitate to recommend her to my family and friends.
- Jacqueline van de Ven from Australia -
- - -
Thank you Youla for caring for our 2 children. My daughter Lucinda liked her taking her to the kids club and Claudia (5 months) was in expert care. Her friendly nature and loving attitude made me so comfortable leaving my children in her care whilst my husband and I had a relaxing holiday.
- Sharon Rowe from AU -
- - -
We would like to thank Putu Simiati for the services she provided to our family whilst we were in Bali. Putu was absolutely wonderful with our daughter Annabel who is 3 years old. We would not have been able to have the relaxing and enjoyable holiday we had without her. Putu is extremely friendly and fantastic with children and we would have no hesitation in using Putu's services again. We will be recommending Karsini Nanny Services to all of our friends & family back in Australia.
- Kristina Thompson from Australia -
- - -
Sugi was amazing with our little girl Zoe (age 3). Zoe was so excited to see her every time she arrived. It allowed us to relax knowing that she was happy and in good hands. Thanks Sugi and thanks Karsini for a great job. Will definitely use you again next time.
- Kim McCarthy from Australia -
- - -
Anna was wonderful - our daughter (2) loved to spend time with her. She took her around Ayana to look at the fish & also took her swimming. She made our holiday great, by giving my husband and I time together - Thank you for your service. We will miss you!
- Sarah Hylander from Australia -
- - -
Karsini has provided a great service. My husband and I have been able to go out for dinner ans massages when we usually need to stay at the hotel with the kids. Our nanny Yola was great with our 6 month old baby & two boys.
- Melissa Schoers from Australia -
- - -
Putu has been so wonderful with our 2 year old and 4 year old. I would have no hesitation recommending her to all our friends. She was so patient, caring, gentle and kind. We felt confident straight away that she would give our children the best care possible. She was professional and respectful while displaying a confidence in everything she did. Communication was easy as she spoke excellent English. Thank you so much Putu! We hope to see you on our next holiday in Bali.
- Prue Kemp from Australia -
- - -
Putu, thank you for the amazing care you provided my two girls. They both adored you and our holiday was truly special because of you!
- Katherine Boiciuc from Australia -
- - -
Wayan was amazing. My children absolutely adored her. She was such a great help with everything and made this holiday all the more enjoyable. We thank her very much!! See you next time Wayan!!
- Kirsty Auzner from Australia -
- - -
Yeni was a fantastic nanny for our 2+ year old daughter. Endless patience, always happy to play with lucinda and very obliging. Thank you Karsini and Yeni for making our holiday more enjoyable.
- Sharon Rowe from Australia -
- - -

- Cassandra Liebeknecht from Australia -
- - -
I am belatedly writing to you to say thank you very much for sending Komang and Putu to us to be part of our holiday. The children and I fell in love with them, they are the most wonderful, kind, funny, caring people. I would recommend them wholeheartedly to anyone who needs a nanny for their vacation. We were so sad to have to say goodbye to them.
- Sara Allsopp Lander from Australia -
- - -
We hired our first nanny through Karsini services when we went on our Bali vacation with our energetic 2-year-old daughter. Jesse and our daughter met in our hotel room and Jesse knew instinctively how to gain the trust and affection of our daughter. Within a few minutes, they were playing like they were best friends and we felt very confident entrusting our daughter to Jesse. Jesse's experienced and training in childcare was very evident that made us feel that our daughter was in very safe hands. Our daughter loves to play in the pool and Jesse spent hours in the pool with our daughter playing in and out of the pool. My husband and I would leave to tour Bali and Jesse always kept us updated via text messages and photos to our cell phone on our daughter's status. Our daughter loved Jesse and would get upset when she would leave to go home for the night telling Jesse not to leave. We really enjoyed having Jesse as our nanny, and if we have another vacation in Bali we will pick her again as our nanny. We highly recommend Jesse to any family that needs a nanny in Bali.
- Camelia Rio from USA -
- - -
Putu was a fantastic help to our family during our 2 week stay in Bali. She was fantastic with the children and made every day one that both us and the children enjoyed.
- Natalie Pecovnik from AU -
- - -
Wiwin was lovely, friendly, punctual and attentive.
- Emma Bukovinszky from Australia -
- - -
Very nice & lovely lady. Got on well with my sons. Was very flexi & was great swimming with my son. Will love to have her again. Always on time & nicely dressed.
- Rebecca Clayton from Australia -
- - -
We found Putu a very capable nanny, she did everything we expected and more. Her calming nature ensured that when we got back to our villa our two year old toddler was vast asleep!! Thanks to Putu we had a very relaxing holiday. This was our first time hiring a nanny and wouldn't hesitate to do so again through Karsini. Booking & payment of service very easy.
- V. Watson from Australia -
- - -

- Rohan Hayhow from AU -
- - -
We had Karsini (Services) for the first time. Our nanny was well experienced. Could trust her on leaving my son with her. Ite had good time with her and the most important is that he was safe all day and played a lot in the way he wanted. Thanks to our nanny !
- Naomi Aizawa from Japan -
- - -
I wanted to send a quick note of thanks for sending us Wiwin to look after Duke last week. 
Wiwin was an absolute delight. Having never used a nanny before we were a little nervous with how Duke react. 
He instantly took to Wiwin and was excited to see her each day. 
This experience made it so easy for us to leave him in her care and enjoy quality time together. 
We really appreciate the care and affection Wiwin showed Duke it made our holiday and his. 
I would not hesitate to recommend Wiwin to anyone and will certainly use her again when we come back to Bali.
- Kim Boyd from Australia -
- - -
Thank you so very much for providing the best nanny we could have ever imagined for. Ketut was brilliant I could not fault her. She instantly made such a special bond with my 2 1/2 year old Jack and my little bubba Sami loved her cuddles. She is a great Nanny she did such a wonderful job I would highly recommend Ketut to anyone looking for a nanny out there she was an absolute delight.
- Louise-Ellen Tessier from Australia -
- - -
Our nanny Rita was fantastic. Our 15 months old loved being looked after by Rita. We found Karsini Services to be a wonderful agency. We enjoyed our holiday so much thanks to the great service and the kind and friendly personality of Rita. 5 stars.
- Michelle Roget from Australia -
- - -
Vera has been wonderful just like an Indonesian Mary Poppins. She has been the best thing about Bali and looked after Sophia just as we would! We would thoroughly recommend to anyone wanting a genuine, caring and thoughtful nanny.
- Andrew Travers from Australia -
- - -
Iluh was fantastic with children, she also made lunches, bought food for me, did the washing ... anything I asked. She played games with the children and eventually the children were hoping we would go out so they could play with Iluh. It was a fantastic week.
- Julie Barnes from Australia -
- - -
Rita was fantastic. We really enjoyed having her as part of our family for the 10 days she was with us. Thank you very much.
- Dale Height from Australia -
- - -
My boys lved her from the start! Beautiful girl would have her again anytime! Can I take her home please?
- Stephanie Ruocchio from Australia -
- - -
I wanted to tell you how wonderful Lucy was during our holiday. Thank you for sending her to us. Alex can be a challenge, given her special needs but Lucy was fantastic with her. Lucy treated Alex as if she was her own child and they both genuinely enjoyed their time together. I will definitely be requesting her on our next holiday to Bali.
- Melissa Shaw from Australia -
- - -
Putu was amazing with our 2 boys. I had never left my 4 month old with anyone before, but Putu made me feel very comfortable leaving him in her care. My 2 boys loved her and we would definitely book her again.
- Tanya Millett from Australia -
- - -

- Troy & Gemma Cawthan from Australia -
- - -
Our boys Jarvis (5) & Arie Levi (4) loved our new friend Eva.Thanks for a happy holiday. See you next time.
- Julieanne Bowes from Australia -
- - -
We can't speak highly enough of our experiences with Karsini Services on our holiday in January 2014 with our 20 month old son. Our nanny, Putu, was very experienced, and provided service of a very high standard. She knew exactly how to bond with and entertain our son right from the start - she constantly played with him. I never had to ask Putu to do anything - she always used her own initiative, and efficiently completed necessary tasks with bathing, dressing, feeding and putting our son to sleep. He was so happy to seen Putu every day. Putu was always kind, smiling, punctual, spoke excellent English and very accommodating when we wanted to change her daily start/finish times. Furthermore, the service provided by the agency for booking our nanny was quick and easy. Thank you so much for everything.
- Susan Nikoloudis from Australia -
- - -
Indah is an excellent nanny and we were very happy with her help with our son David. She obviously has a lot of experience with children and we felt very comfortable leaving her to look after David. We would recommend Indah to anyone who needs a nanny during their holiday.
- Sas & Dave Jacobs from Australia -
- - -
All the nannies we have used with Karsini (Anna, Kadek & Ami) have been wonderful with our 2 boys. The girls have been professional, hard working & loving towards our children. Many thanks. We would not hesitate to use Karsini Nannies again on future trips to Bali.
- Sara Day from AU -
- - -
Putu and Nancy were an amazing team. We have a 3 year old, 2 year old and a 1 year old baby. (crazy I know!) These girls were absolutely brilliant! Nothing fazed them, they were so punctual, efficient, flexible and accommodating. They were always cheerful and looked after the kids so well. My children adored them both. They work so well as a team. I would highly recommend them to anybody!! Made our 10 day stay bliss. 
 
Also Karsini agency were professional, and the final invoice clear and accurate. 

- Priyanka Roy Chowdhury from Australia -
- - -
Wwiwn is caring, gentle and treats my son as her own. It is comforting to know that my child is left with such a beautiful person. It makes it it a little easier to be in a different country for the first time. One day I hope to return and see her again. I wish her wishes and dreams come true.
- Sinbin from Australia -
- - -
We had Wiwin during our stay to help out with our two children aged 3 and 10 months. Wiwin was fantastic with both of our kids. She mainly spent time with our 10 month old which enabled us to spend quality time with our 3 year old and made getting out and about much easier. We will definitely be using this service (Wiwin if she is available) when we next visit Bali. I would recommend Wiwin and this service to anyone traveling to Bali with young kids.
- Sarah Poppy from AU -
- - -
Service provided by Karsini Services was very good. Siti, our nanny, was absolutely perfect! She was very kind, sweet, patient, caring with our baby daughter and also very discreet all the time we were in the villa with her. I definitely recommend Siti as a fantastic and totally trustworthy nanny.
- Edouard Louis-Dreyfus from Australia -
- - -
We love Lucy. So did my 3 year old. Ruby will miss her, she was wonderful, warm and patient. Thank you for making our holiday more relaxed.
- Jodie Ferguson from Australia -
- - -
Thank you very much for an excellent Nanny Service. Debby was fantastic with our son Noah and he loved spending time with her. We felt very confident & happy to leave hime in her care.
- Rebecca Dean from Australia -
- - -
A very big thank you to Putu for lookingafter our 2 kids during our holiday. From the moment she arrived I was re-assured that out kids were in good hands. She was very responsible, listened to all our instructions and always ready to accommodate our request. We'll be back in Bali and will look forward to using Karsini and Putu again.
- Maria Davidson from Australia -
- - -
Komang was terrific with our 3yr old + 1yr old boys. Her kind nature and warm spirit left us with confidence they were in the right hands. I highly recommend booking Komang. She is lovely and lots of fun!
- Michelle Levins from Australia -
- - -
We hesitated before hiring a nanny because our 15 month old had never been cared for by anyone but ourselves. There was no need to worry! Binti took great care of out toddler. He had a wonderful time playing with Binti and enjoyed the warmth of her company. Binti's help allowed us to really relax and enjoy our holiday. Thank you!
- Kathryn Hoffmann from Australia -
- - -
Putu Susi is WONDERFUL. I feel so lucky to have found a nanny who I feel comfortable to have my 10 month old baby with. She has taken amazing care of my baby and allowed me to have a very relaxing holiday and some much needed "sleepin's". Thank you Putu - you're the best.
- Sascha Schubiger from Australia -
- - -
Thank you for sending Iluh to us. She was punctual, hardworking and her English was great. She was very gentle and fun for the children and taught us many things. We enjoyed her company and she created a great dynamic to our family. I would highly recommend her to any family. She has a great sense of humor.
- The Paddick Family from Australia -
- - -
Komang Reliani has been a wonderful addition to our family during our holiday. She has been so flexible, helpful and friendly. Our boys (10 months & 22 months) both warmed to her quickly and they have been happy to play with her. We hope, when we come back, that Komang can join us again!
- Jacqueline Quinn-Smith from Australia -
- - -
Anna was friendly & professional. My daughter can sometimes be a bit difficult but she handled her well. I will use her again.
- Melissa Shaw from Australia -
- - -
Jessie Darwin helped look after our six and ten year old for 10 days whilst we were on holiday in Bali. She is a very responsible and experienced mother and nanny who knows what she is doing and needs minimal instruction. She is also lots of fun, enjoys active play with kids and swam almost constantly with them. She was delightful company for the whole family and we were sorry to say goodbye to her.
- Julie from Australia -
- - -
Thanks for the service! Both the nannies have been great. Very punctual, kind & caring. They are very much recommended.
- Karen Zuiderduyn from Australia -
- - -
Ayu was the most amazing babysitter. She was very trustworthy and professional. Our 2 kids loved her! We are grateful that Karsini could mind our kids for a few afternoons while we were sightseeing and had some time by ourselves. I will always use Karsini when I return to Bali in the future.
- Jess Pappas from Australia -
- - -
Vera was fantastic with our 2 girls! They really loved having her each day. I would definitely love to have Vera again as our nanny next time we are in Bali.
- Narelle Nyeholt from Australia -
- - -
Putu Sumiati was amazing with the children & very attentive. I would highly recommend her services to anyone!
- Sandy Oliver from Australia -
- - -
Suzi, was punctual, polite + my 5 year old daughter loved her - I would highly recommend Karsini Services. Thanks. and recommend Suzi for future employment.
- Joanne Robinson from Australia -
- - -
Thanks for sending us Lucy for the week. She was extremely friendly, warm, affectionate and confident looking after the children, especially our 1 year old who needs to be followed constantly. Every evening we would meet with our friends (who also have young children) and their Karsini nanny - Ami. We would go swimming whilst Lucy and Ami cooked up the most delicious meals for the children. We have had a great holiday, largely due to Lucy. I would highly recommend her.
- Jane & Andrew from AU -
- - -
Dani we have used for the second time & find her fantastic with our children. Our children, especially the youngest, Kyron loves Dani & kids are good judges of character. Will use Dani again when we are in Bali.
- Marie Arthy from Australia -
- - -
Fantastic nannies! Very much at ease. Highly recommend!!
- Scaife family from Australia -
- - -
Boys loved Komang. Very very happy. Lovely girl. Always on time, reliable and flexible. Had a great holiday thanks to Komang, not worrying about boys being safe and happy. Thank you Karsini + Komang.
- Sharon Armour from Australia -
- - -
It has been an absolute pleasure sharing our holiday with Putu. For 5 weeks she has been an endless source of fun and creativity for our family and the children are so excited so see her very day. She has lots of great ideas for games and activities which the kids love. We will be sad to say bye at the end of our trip and can't wait to see Putu again next time.
- Kathryn Buchanan from Australia -
- - -
Sugi and Wiwin have been fantastic! They have blended into our family perfectly and our children love the girls. Thank you for the fantastic service.
- Narelle Jose from Australia -
- - -
Ida was a fantastic help. She was always punctual, and had a great touch with the kids. She was especially excellent with our 3 month-old, and even looked after all three of our kids one night. She made our holiday so much more a pleasurable experience.
- Brian and Christina Pereira from Australia -
- - -
We have a 6 month old baby and a 6 year old girl. We were a bit concerned as to how our baby would cope in Bali with heat, hence the reason we looked into a nanny. I have to say I'm so pleased we did as it made our our trip just so enjoyable. Our nanny was incredibly good with our baby and it allowed us to have quality time with our 6 year old and even find time to have a romantic dinner just the two of us - the first time in 2 years.
- Penny Jaski from Australia -
- - -
Lucy was absolutely wonderful - she was pleasant and very reliable. I immediately felt comfortable leaving my 5-month old with her. My little boy loved being with her too. She made our trip in Bali perfect! I will definitely use Lucy on our next trip to Bali. I would highly recommend Lucy to anyone. Thank you for your service.
- Julie Anderson from Hong Kong -
- - -
Ayu was excellent and we would use her again without hesitation. Thank you.
- Michelle Fowler from AU -
- - -
We have been delighted to have Lucy look after our children over the last week. She has a lovely nature and our children loved the time spent with her over the last week. We would thoroughly recommend her to anyone else looking for child minding help in Bali.
- Ben & Fiona Rosser from Australia -
- - -
Lucy and Anita have done a great job looking after our precious children. Our children have learned a bit of your culture and we want to book them again next time and will be recommending Lucy and Anita to other fellow Australians. Look forward to next time.
- Beau and Laura Clipperton from Australia -
- - -
Iluh was fantastic. I felt completely safe leaving my children in her care. My husband and I had a wonderful time at Waterbom park without the children! Thank you so much.
- Nicole Connolly from Australia -
- - -
Ketut has been amazing! Could not recommend her high enough. Lachlan (my 6 year old) absolutely loves her. She is brilliant. We will definitely use her again when we come back to Bali. Thank you Ketut for making our holiday a great experience.
- Emma Adkin from Australia -
- - -
Vera was the best nanny ever and I wish that she could come with me to my home country. She treated my children as hers!
- Madalena from Portugal -
- - -
Dian was a delightful addition to our family Bali Holiday. She was caring towards our children and they looked forward to her coming. Dian was always punctual & professional. I have no hesitation in recommending her for babysitting duties.
- Rylee Joy McLaren from Australia -
- - -
We has Sugi mind our 2 girls and my husband and I were over the moon with how great things went. She was so great with the kids and they loved her. We will definitely be using her next time we travel to Bali.
- Laura McManus from Australia -
- - -
Nyoman was the best nanny we could have asked for. She not only cared very well for our kids, but is also a beautiful respectful person. You are lucky to have Nyoman represent your company.
- Askin Erkec from Australia -
- - -
Our babysitter from Karsini Services was a very loving, caring and fun lady. We would book again when we come back. Thank you and we wish you could come home with us.
- Rebekah Clayton from Australia -
- - -
Rosa was so lovely with our son. She has a very gentle but confident nature. Our son warmed to her in minutes and was happy and smiling when we returned in the evening. We would certainly recommend her and the Karsini services.
- Melissa from New Zealand -
- - -
The girls were absolutely fabulous with the three kids (9 months, 1 year and 3 year). We felt very comfortable leaving them in the capable hands of the nannies. Would definitely recommend! Karsini is very flexible for the hour of the bookings, it is great!
- Karen Limpens from Australia -
- - -
Veronica was a nanny to my 3 year old and 3 month old children for 5 days. 
She quickly built rapport with my 3 year old, putting my mind at ease about leaving her in the care of somebody unknown. With three children of her own, you can tell Veronica knows her way around this parenting malarkey, handling both toddler tantrums and infant meltdowns with panache. I never felt my daughter was being ignored, with Veronica and her always engaged in quiet play of my daughter?s choosing, constant chatting and Veronica always being very attentive to my daughter?s interests and play. Veronica was easy to communicate with, having excellent English and always smiling. Veronica is also water confident and would spend hours in the water with the children. I observed three other nannies at the pool, all of whom hovered fully clothed near the edge while the children played but never entered the water so I presume a swimming nanny is rare. Our family really enjoyed getting to know Veronica and she seemed to genuinely enjoy our children?s company.
- Esther Holloway from Australia -
- - -
Anna has been fantastic. Our daughter thinks she is wonderful and we have built up good faith and trust in Anna.
- Jane-Ine Clifton from Singapore -
- - -
We were very happy to have Debbie taking care of our 1 yr old daughter throughout our holiday. She entertained her well and kept her happy, allowing us to relax and feel our daughter was well looked after. I would recommend Debbie to others wanting to have some "couple time" on their holiday. Karsini (Services) was very professional to deal with. Thank you very much Debbie & Karsini (Services).
- Louisa Mawer from Australia -
- - -
Our nanny Putu was amazing and beautiful. I would recommend her to all my friends in Australia, and request her for our next holiday! She is the best Bali nanny. Bagus!!
- Kimi Maxwell from Australia -
- - -
Thank you for your wonderful service. Putu has been fantastic with our 2 children and I have felt really relaxed about leaving my children in her capable hands. We will call upon your services, and hopefully Putu's, again.
- Nina Leonard from Australia -
- - -
Anna was absolutely FANTASTIC! I have never had anyone looking after our little boy before, but Anna made us feel comfortable to leave him for a few hours (or more!) and not worry! Thanks Anna.
- Mrs. Barnes from Australia -
- - -
We found Ayu to be punctual, reliable & honest. Our daughters Abbie & Amber were very comfortable in Ayu's care. Thank you Ayu.
- Julie & Matthew Overell from Australia -
- - -
We had a wonderful holiday, thanks to Rita. She was a delight. Our daughter Jessica loved her, as did we. We wish we could take her home.
- Linda Trehern from Australia -
- - -
Yeni was a wonderful babysitter. She was very professional and competent as well as kind to the children. We felt very comfortable leaving our children with her and both children were very happy to stay at home with Yeni on a regular basis. I can highly recommend Yeni to anyone interested in a babysitter and we know we will employ her next time we visit Bali.
- Jodie Busby from AU -
- - -
We loved having Wiwin as part of our family while in Bali. She was amazing and made me feel very comfortable having our boy with her. We hope to see her again. It was all very easy. Hudson loved her and we will miss her a lot.
- Stacey Newland from AU -
- - -
Anna has been excellent. I couldn't have been happier with how she has looked after Holly. I wish we could take her home to Australia with us.
- Shannon Aspinall from Australia -
- - -
We loved the service, Putu was fantastic, very good with children, good swimmer.
- tahlia hall from Gaza Strip -
- - -
Karsini Services has been very professional and easy to deal with. Our nanny Nyoman has been fantastic with our 2 year old daughter. She is very trustworthy and reliable and we would definitely use her again! Thank you.
- Monica Warden from Australia -
- - -
Thank you Susi from Karsini Services. We have had a wonderful holiday in Bali with our 20mth old daughter thanks to Susi for her nurturing of my baby. All her needs were met & my daughter made a new friend with Susi. We traveled up to Ubud & Susi came with us. It was great to have the same nanny our whole holiday. I would recommend this service to anyone traveling with small children. We are coming back next year & will use this service again.
- Therese McDermott from Australia -
- - -
Putu was an absolute delight. From the first day she took our daughter under her wing and kept her happy and engaged for our entire holiday. What will we do without you Putu!! We look forward to seeing her again when we are next in Bali.
- Stacy and Craig from Australia -
- - -
This was our first experience using a nanny for our children aged 26 months and 7 months and thanks to Putu it won't be our last! Putu had the children engaged and happy from minutes after meeting them. She was absolutely wonderful with them and so happy and friendly to us all. If you want a relaxed holiday with happy, relaxed kids, Putu is your nanny! We love you Putu! Thanks for making this such a wonderful holiday.
- Carmen Goldstein from Australia -
- - -
Our children enjoyed having their own "babysitter". It gave us the freedom to go out and about whilst being comfortable that our children were in capable hands and were always happy on our return. Thank you for such a wonderful service. We will certainly use your services again.
- Kym Withoos from Australia -
- - -
Sugi is fantastic. Highly recommended for any family looking for a babysitter.
- Andrew Wren from Australia -
- - -

- Rupert Mackintosh from New Zealand -
- - -
Youlla was great, Sophie loves her. Thank you!
- Kate Cybul from AU -
- - -
I highly recommend Nova for Nanny services in Bali. Our 7 month old baby warmed to her straight away, and he always seemed happy and content in her company. We were very happy to eave our little boy with Nova while we enjoyed day trips of 12 hours or more, and he was always sound asleep when we returned. We will be sad to say goodbye to Nova, but will recommend her to all of our friends who visit Bali.
- Melissa Petrie from Australia -
- - -
After contacting Karsini to arrange a nanny for our 2 boys (age 26mth + 8mth) Amie was placed with us. She was amazing!! She quickly fitted in with our family and our children loved her. She was wonderful making our holiday relaxing, and I had no worries whatsoever leaving our children with her. Amie will be missed. Thank you so much for providing an excellent nanny.
- Della Acres from Australia -
- - -
Our family experience with Karsini Nanny Services has been great. I would recommend our nanny Ami to any family. She has been great and we are going to miss her.
- Louise Head from Australia -
- - -
Ayu made our holiday perfect! The kids were so comfortable with her & it gave my husband and I time together while they relaxed & played. We feel like Ayu is a part of the family now. See you next time.
- Dion Ferrari from Australia -
- - -
Andriana has been wonderful looking after our daughter. She is a very warm & caring person and we were 100% confident with her abilities. We will definitely use Andriana again next time we come to Bali. A big thank you to Andriana!
- Lisa Phillips from Australia -
- - -
Endah has been a great help on our holiday. She has looked after our 10 month old with great care and made our baby food. She shows initiative and uses spare time to tidy up, wash dishes etc. It has been great to go out some evenings without children.
- Ann Woodward from Australia -
- - -
Indah was lovely. She cared for my 2 boys really well and they absolutely adored her!! I would recommend her to anyone traveling to Bali with children. Karsini + Indah made our holiday sooo much more enjoyable. A MASSIVE thank you!! We will miss you!!
- Kirsty Auzner from Australia -
- - -
Thank you Putu! Putu was lovely with the children and arrived on time. She spoke excellent English. If we come back to Bali and need a nanny we would ask for Putu!
- Ann Lautrette from Australia -
- - -
I was more than happy with Andriana's service and therefore with Karsini's placement of her. Andriana was always very kind, considerate and skillful in her work and my daughter who is very shy with new people (and sensitive) enjoyed being cared for by Andriana so much she couldn't wait for her to come each day. Thank you.
- Kim Hamill from Australia -
- - -
Thank you so much with assisting us + making our holiday brilliant! We have twin babies + an 6 year old autistic boy. Rini was with us for the entire time + she was absolutely fantastic!!! We could not have wished for anyone more understanding + caring. I would absolutely recommend her to any family who have children with special needs. She was a star!
- Melany Mury from Australia -
- - -

- Esther Holloway from Australia -
- - -
We have been thrilled by the wonderful assistance of our nanny has given our family over the past week. She has been fantastic and we hope we can see her again when we come back to Bali.
- The Nutt Family from Australia -
- - -
This was our first experience using a nanny service and we have been delighted with both Ayu and Putu. 3 of our 4 children loved them straight away, and both worked hard to win over the unfriendly 14 month old which they eventually did. We felt confident to leave the children, and will definitely use them next time we come to Bali. Thank you!
- Brett Moyle from Australia -
- - -
We are extremely happy with Putu. She was perfect in every way. We will demanding her on our next trip to Bali. Thanks Putu!
- Fiona Piccinato from Australia -
- - -
We were thrilled with Kusmiyatun, Her professionalism was excellent. Not to mention she was fantastic with the children, they have not stoped talking about her. We hope to return to Bali next year, and hope Kusmiyatun will be available to look after the kids again.
- Brent and Fiona Moore from Australia -
- - -
Karsini services were fantastic! easy to communicate with and made the whole process of hiring a nanny a breeze. We want to thank you so much for sending Wiwin to us, she was great with our three children. Our children were very comfortable with Wiwin and began to ask when she was coming again. We are all very sad that we couldn't bring Wiwin back to Australia especially our 2year old daughter.
- The Van Klaveren family from Australia -
- - -
Ami has done a fantastic job, and we are very happy with her. We have no problem to leave our two kids for her to look after. Overall, very done good job.
- Susan Chan from Australia -
- - -
Putu looked after our 22 month old for three days and did a fantastic job. She didn't leave his side for a moment and was incredibly focused and diligent. It is clear that Putu has a true love and gift for working with children.
- Svetlana Raab from Australia -
- - -
Both nannies showed a lot of care & affection towards both children. They were attentive, kind & loving. I highly recommend them to other families. The children really enjoyed their time with their two nannies. We really appreciated their help. Thank you!
- Fiona & David Steinhauff from United States -
- - -
Anna was wonderful!!! We will be sure to tell all our friends about her. Thankx again.
- Tegan cann from Australia -
- - -
We found Karsini Services on the Internet and from the moment I booked via the Internet from Australia. I have found them to be professional, trustworthy and helpful. I cannot fault our babysitter Rini. Rini was polite, had excellent English and was comfortable with our 11 month old daughter straight away. Rini took and followed our instructions precisely every day and filling us in on the day's activities upon our return.(..) face lit up every time Rini returned to look after her. I found Rini to be trustworthy, polite, flexible and friendly and I highly recommend her services. She was knowledgeable in regards to our daughter's needs, naps, bottles, everything! I have no hesitation in using Rini and Karsini Services again and cannot recommend highly enough.
- Tammy Aitken from Australia -
- - -
We were very happy with Niluh and the service Karsini provided. We will definitely use them again and highly recommend them.
- Charlie Hermann from Australia -
- - -
Nining was amazing! Our children loved her.Hard working gentle and self-directed. We felt very comfortable leaving our children with her. And we're looking forward to our next visit already, so that we can have Nining stay with us again. Thank you very much from the bottom of our hearts.
- Maria Greenwood from Australia -
- - -
Thank you for sending Kussy to us. Our children have enjoyed spending time with her. She has provided an outstanding level of care and it has been wonderful to go out with my husband in the afternoons while they were sleeping. She truly loves the children and we wouldn't hesitate to recommend her to our friends. Thanks.
- Lisa Manuel from Australia -
- - -
We found Danni to be so friendly and caring with our children. We would recommend the Karsini Service to anyone and will be using them again when we return to Bali. Thank you Danni.
- Alex Jensen from Australia -
- - -